31 July 2022
Background

I first bought the shares in June 2021. It was a value call for me back then. I thought close to 20% FCF yield was cheap enough and planned to sell the position when the price reached $25 or so.

It almost reached that level in early June this year. However, I have not sold any shares. In fact, after closely following the company for over a year, I have developed a stronger conviction and decided to increase my position in the company. Three weeks ago, I bought more shares at a $16.3 price, increasing the weight of CNX in my portfolio to 8% (average cost of $14.28/share).



Summary of my investment case on CNX

CNX is a low-cost gas producer run by a team with a strong track record of value creation, which has generated $460mn organic FCF in 2021 and is on track to deliver over $600mn in 2022 (FCF yield of 14% and 19%, respectively). Even more importantly, the company is spending its FCF on paying down debt and share repurchases. It bought back 12.9mn shares in 2021 ($245.2mn) and repurchased 12.4mn in YTD ($248.5mn), reducing its share count by 6% since the start of the year. At the same time, unlike many other E&P companies, CNX has been growing production and expanding its reserve base. The company has also consistently reduced its costs.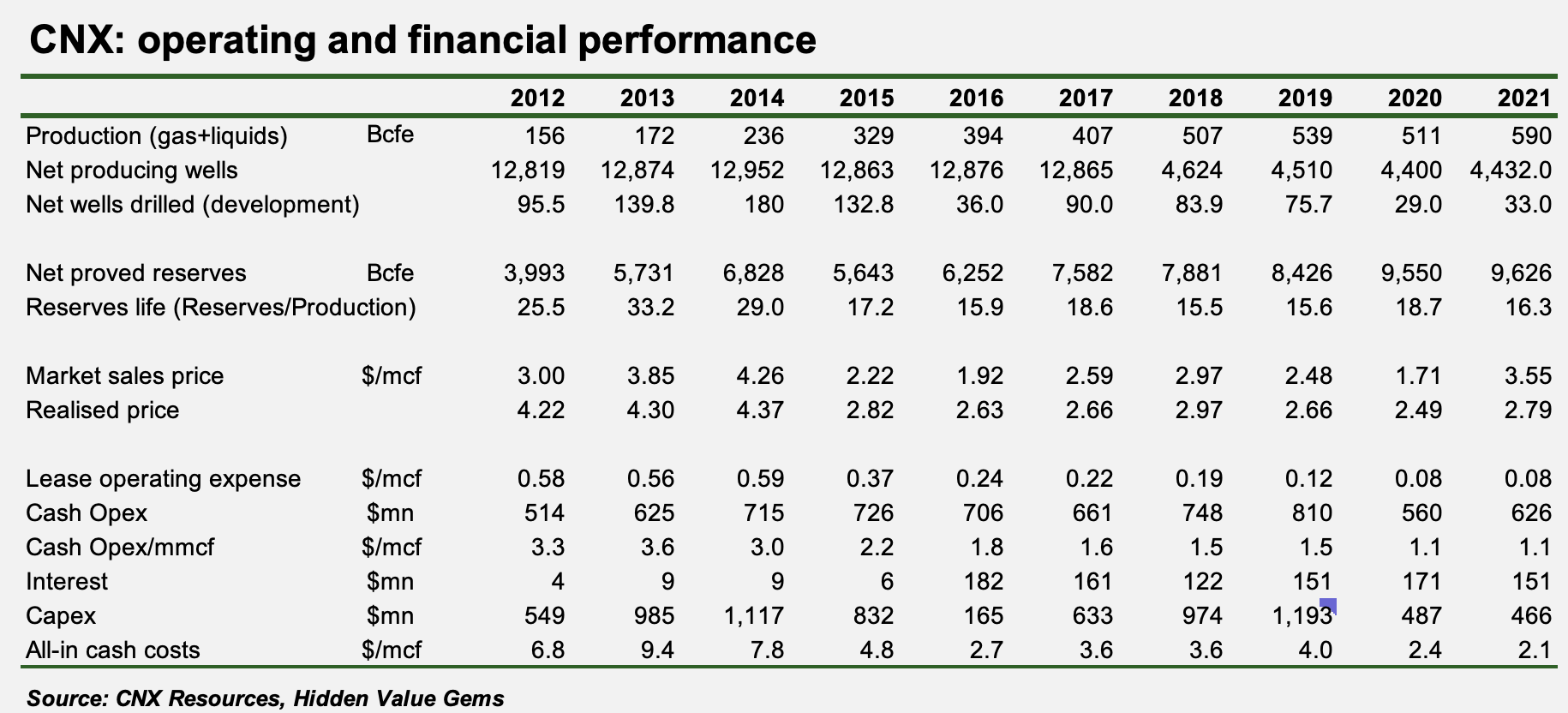 I think a more reasonable valuation for CNX would be a 10-15% FCF yield based on a normalised FCF per share of $4, suggesting around a $33/share valuation (~100% upside). There is an additional upside to long-term FCF coming from production growth, net debt reduction (reduced interest expenses), lower share count (per-share FCF), better hedge price as the forward gas price moves higher in a tighter market and potential cost optimisation (higher productivity).

You can see a more detailed analysis of unit costs and profitability of CNX in my write-up in My Portfolio section.


Did you find this article useful? If you want to read my next article right when it comes out, please subscribe to my email list.



DISCLAIMER:
this publication is not investment advice. The main purpose of this publication is to keep track of my thought process to better assess future information and improve my decision-making process. Readers should do their own research before making decisions. Information provided here may have become outdated by the time you read it. All content in this document is subject to the copyright of Hidden Value Gems. The author held a position in the stock discussed above at the time of writing. Please read the full version of the Disclaimer
here
.